Essential Gadgets and Accessories for Your iPhone
From case to stand, from sound to earphone, from gloves to armband, there are so many options. The gloves seems really useful in winter time… and iphone horn just way too cute…Hope you enjoy.
We are a participant in the Amazon Services LLC Associates Program, an affiliate advertising program designed to provide a means for us to earn fees by linking to Amazon.com and affiliated sites.
1. iClooly Ring Stand [buy on amazon]
Ring Design to prevent slipping the iPod Touch from your hand. Compatible with iPod touch 2nd and 3rd generation. Ring Stand can rotate 360 degrees with small mirror on the back. Works as case and stand (widescreen stand). Protect your iPod Touch from scratches and dust. High quality plastic and ring material. Beautiful and mart design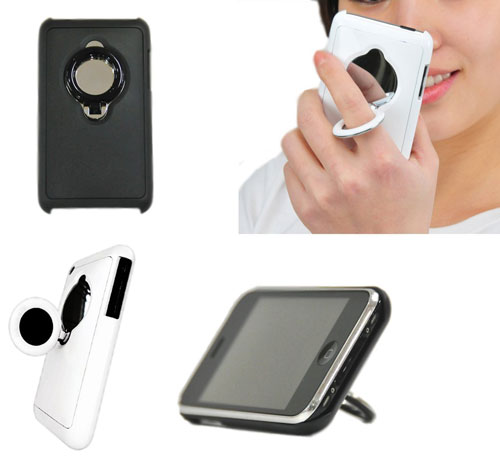 2. iphone cowboy case [daynejewell]
The Y 01 with its holster-like look was designed for your everyday urban life and offers a variety of storage solutions for your iPhone or iPod, credit cards, cash, keys, cigarettes, ball pen and ear phones. No more nights on the town with bulging pockets yet still have everything you need at your fingertips-even on the run! Our masterpiece is ethical,vegetally tanned&handmade from German cowhides.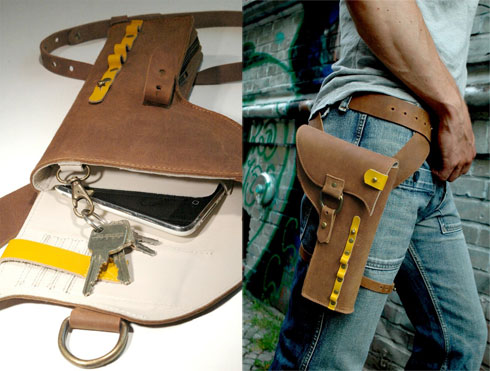 3. iPhone Horn amplifies sound without using any power [buy on amazon]
The built-in speaker in the iPhone 4 is fine, but it's not powerful enough to really share music with a group of people. iPhone Horn Stand aims to make the speaker a bit more powerful without adding to the drain on the phone's battery. It uses its shape to amplify the sound without any power necessary. It can be used to stand the iPhone up either horizontally or vertically.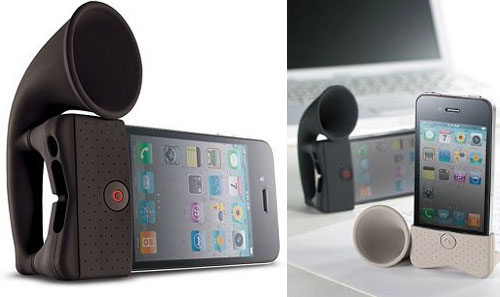 4. Mobile Tail [yankodesign]
The cute little Mobile Tail instantly transforms your phone to a viewing display. It's crafted from flexible liquid silicone rubber (LSR) – a non-reactive, high-purity material and attaches to any device via the suction cup. Too bad it is still a concept now.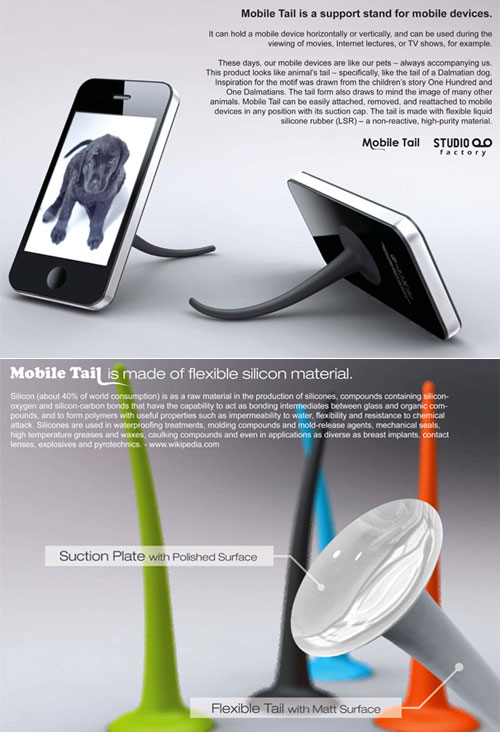 5. Hippo iPhone Case (discontinued)
Counter to the current trend of downsizing electronics, Ark's Hippo iPhone case comes in handy for those accident prone, looking for a combo case/stand, or who spend extended periods chatting on their cell.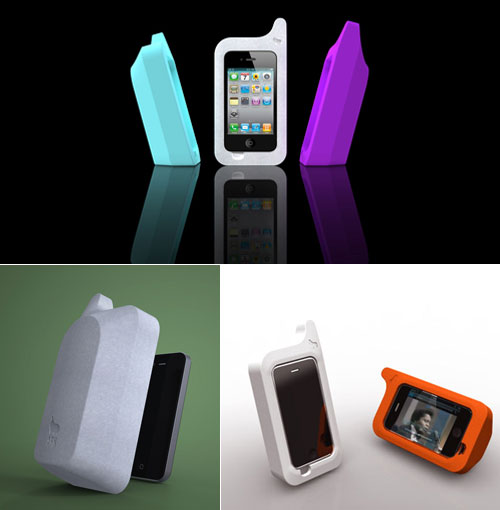 6. iPhone 4 with DSLR Lens [hypebeast]
Apple's new iPhone 4 has exceeded the expectations of many, yet its 5-megapixed camera is outdated compared to some of its competitors like HTC's Evo 4G, which has an 8-megapixel camera. A recent prototype around the net shows how a distinct character created a special tripod to attach a DSLR lens to the iPhone 4. A creation like this can certainly help a traveling photographer who is not keen to carrying equipment around or interest one who wants to enter the world of photography.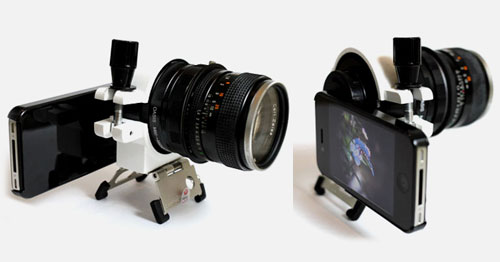 7. Fleece Gloves for IPhone and Cell Phones [buy on amazon]
Fleece Freehands are soft, lightweight and comfortable. Grippy material on the palms and fingers will keep your phone from flying out of your hands. All Freehands have fully shirred elastic wrists to keep cold air from getting in and a plastic hook and loop to hold the gloves together when you put them away or to attach to a jacket zipper.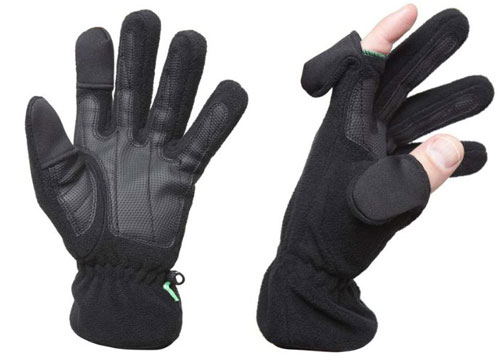 8. Sinjimoru Sync and Charge Dock Stand [[discontinued]]
* Sleek and stylish stand that provides upright resting place for iPod and iPhone while it syncs or charges
* Supports your iPhone or iPod Touch in both portrait and landscape formats
* Convenient and elegant home base stand that will make syncing and charging easier than ever
* Works with iPhone 3G, 3GS, 4, Touch 1G, 2G and 3G, iPod Classic, Nano 3G, 4G, and 5G